eNodeB – California Opposition to SB 649 "small cells"
••••••••••••••••••••••••••••••••••••••••••••••••••••••••••••••••••••••••••••••••••••••••••••••••••••••••••••••••••••••

Plan To Install 50,000 Cell Towers In California Faces Opposition
June 28, 2017   7:48 PM By Phil Matier
WALNUT CREEK (KPIX 5) – Up to 50,000 cell phone towers coming to cities across California.
But will you get a say on where they pop up?
http://sanfrancisco.cbslocal.com/2017/06/28/plan-install-50000-cell-towers-california-opposition/
Citizens Testify Against California Senate Bill SB 649
A must see!  Most Cities are AGAINST this bill.
Published on Jun 30, 2017
SB 649 would Remove Local Authority From Wireless/Small Cell Citing and place mini cell towers in neighborhoods with no public process. This testimony is from June 28, 2017 where many citizens testified in opposition. Learn more about wireless health risks at https://ehtrust.org/
••••••••••••••••••••••••••••••••••••••••••••••••••••••••••••••••••••••••••••••••••••••••••••••••••••••••••••••••••••••••••••••••••••••••••••••

Hearing Wednesday on Spread of High-Power Cell Towers
Senate Bill 649 would eliminate local permits for cellular equipment such as this across the state. (Kevin Mottus/California Brain Tumor Association)
July 11, 2017
SACRAMENTO, Calif. – Health advocates worried about the impact of wireless radiation are planning a show of force at a hearing tomorrow in Sacramento – on a bill that would smooth the way for telecom companies to put 5G and other cellular technology in neighborhoods across the state.
Senate Bill 649 would mean companies would no longer need a local permit for the boxes.
Sandy Maurer, the director of the EMF Safety Network, says the technology requires a cell site every few hundred feet – with equipment the size of a refrigerator – on tens of thousands of utility poles and in street-side boxes.
"So in 2018 you could awake to a cell tower right outside your bedroom window," she says. "And over-the-counter permits would eliminate local review and essentially deregulate the telecommunications industry. Overriding any and all environmental laws."
Last March, researchers from the National Toxicology Program released partial study results showing that rats exposed to 2G wireless radiation developed tumors on the brain and heart. The Cellular Technology Industry Association, which sponsored the bill, insists that there is no proven link to cancer and says the equipment complies with FCC regulations.
The bill already has passed the state Senate and goes before the Assembly Committee on Communications and Conveyance at 1:30 P.M. tomorrow.
Ellen Marks, director of the California Brain Tumor Association, says other studies have linked wireless radiation to brain tumors, leukemia and electromagnetic sensitivity, which causes tinnitus, heart palpitations and migraine headaches.
She believes that state lawmakers are willing to quash dissent – having been won over by promises of super-fast internet connectivity.
"This will eliminate public input and local discretion," Marks says. "And residents, cities and counties should be able to speak up about this because we're talking not only about health impacts but aesthetics, property values and environmental impact. There's never been any pre-market safety tests on any of this."
In California, 179 cities and 32 counties oppose this bill, as do a bevy of environmental groups.
Mary Beth Brangan, executive director of the Ecological Options Network, says experts have measured excessive radiation levels near similar towers that are already in place in Palo Alto.
"This is insanity," Brangan exclaims. "If this is brought closer to people, children will be exposed. People will be made very, very ill. And it's not only people. It's pollinators, trees, all biological creatures."
The state of Ohio passed a similar law last year and was promptly sued by more than 80 cities and counties in protest.
http://www.publicnewsservice.org/2017-07-11/consumer-issues/hearing-wednesday-on-spread-of-highpower-cell-towers/a58470-1
••••••••••••••••••••••••••••••••••••••••••••••••••••••••••••••••••••••••••••••••••••••••••••••••••••••••••••••••••••••••••••••••••••••••••••••

California cities have the right to block small cell permits based on aesthetic concerns
RCR Wireless News, Sep 16, 2016
California cities have the right to block small cell permits based on aesthetic concerns according to a state appeals court.
Plaintiffs T-Mobile US, Crown Castle and ExteNet argued state law gives them the right to install equipment "in such manner and at such points as not to incommode the public use of the road or highway," meaning infrastructure should be permitted as long as it does not block traffic. The court disagreed and ruled in favor of San Francisco, which argued that the definition of "incommode" includes "inconvenience, discomfort and disturbance beyond mere blockage."
••••••••••••••••••••••••••••••••••••••••••••••••••••••••••••••••••••••••••••••••••••••••••••••••••••••••••••••••••••••••••••••••••••••••••••••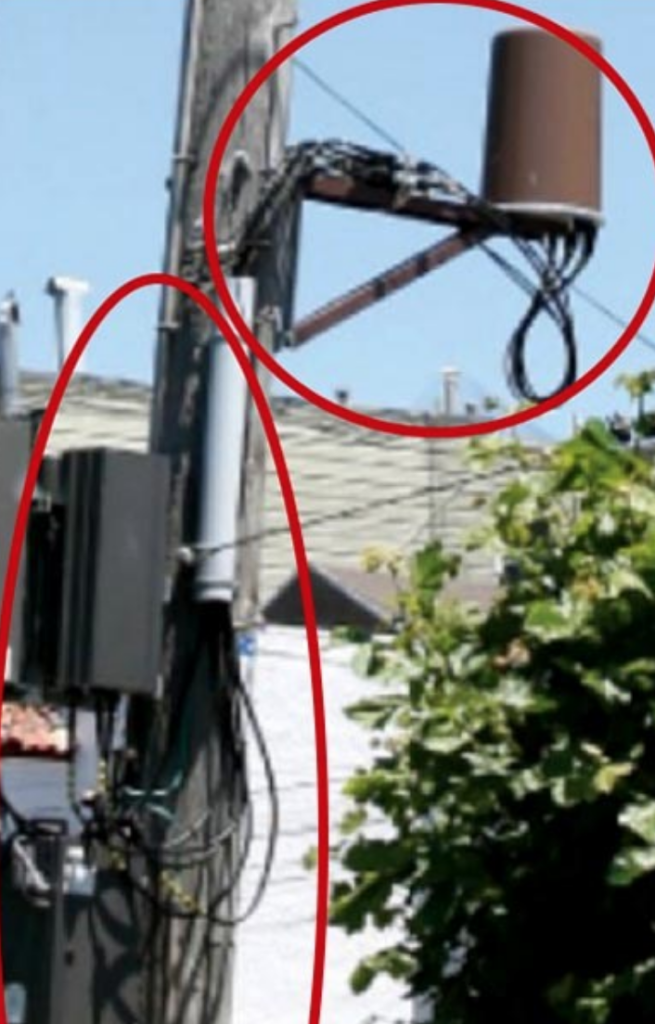 CA Bill SB 649 Would Force Transmitters Outside Your Home
Tell California State Senators: "NO" on SB 649- NO Small Cell Invasion
stopsmartmeters.org/2017/04/19/ca-bill-sb-649-would-force-transmitters-outside-your-home/
from http://scientists4wiredtech.com/2017/04/oppose-ca-sb-649/
San Francisco Small Cell Antennas
http://server2.charityadvantageservers.com/client/ResearchAssociatesSR_A6BNQ8B2/antenna_sickness.aspx
San Francisco – "bulky and noisy (cooling fans) Not so Small — Small Cell (Crown Castle for Verizon Wireless) about 15 feet from a home"
https://medium.com/@omarmasry/sb-649-challenges-legislative-pitfalls-a61a4427651a
Letters in Opposition – California
••••••••••••••••••••••••••••••••••••••••••••••••••••••••••••••••••••••••••••••••••••••••••••••••••••••••••••••••••••••
May 24, 2017 Ronald M. Powell, Ph.D.
To: Federal, State, and Local Governments, and Communities
From: Ronald M. Powell (retired U.S. Government scientist; Ph.D., Applied Physics, Harvard University)1
Subject: Please OPPOSE the expansion of cellular technology, especially 5G, on health grounds.
The international biomedical research community is increasingly linking radiofrequency radiation from wireless devices to adverse health effects. Among the devices of concern are cell towers and cell phones. Most recently, in 2016, the National Toxicology Program at the National Institutes of Health linked cellular radiofrequency radiation to malignant brain tumors (gliomas) and malignant nerve tumors (schwannomas) of the heart in rats.2,3
This growing understanding of the adverse health effects of cellular radiation means that the expansion of cellular technology should be HALTED. However, the proponents of expansion, including the Federal Communications Commission, see billions of dollars of profits at stake for the wireless industries. They are pressing for ACCELERATED IMPLEMENTATION of cellular technology, especially the new Fifth Generation (5G) of cellular technology,4 and with no further testing for health consequences. 5G will employ higher frequencies to enable faster data rates. These frequencies are useful for short distances only, so 5G cell towers must be closely spaced. They will be placed up and down residential and business streets, spaced several houses or businesses apart, and will beam radiofrequency radiation directly into every occupant. Such placement threatens health, aesthetics, and property values. Little wonder that 5G is viewed as outrageous by so much of the public.5
The consequence of accelerated implementation is a rapid increase in the MANDATORY IRRADIATION OF THE PUBLIC, including children and adults. The proponents claim that the public is demanding such implementation. But the opponents see accelerated implementation as a last desperate effort by the proponents to profit from cellular technology before growing public awareness of the health consequences makes that impossible.
The principal method used by the proponents to accelerate implementation is to urge each level of government to pass legislation that bars the lower levels from preventing installation in order to protect their residents. This is a major assault on LOCAL RULE through cascading levels of governmental overreach. The goal of the proponents is to assure that no governmental or community entity, and no individual or business, can prevent the placement of a cell tower in front of any home or any business, including YOURS.
The expansion of harmful cellular services is all the more tragic because SAFE COMMUNICATIONS ALTERNATIVES EXIST. They employ wired technologies, such as coaxial cable, shielded Ethernet cable, and optical fiber cable. Coaxial cable and shielded Ethernet cable guard against the emission of radiofrequency radiation. And optical fiber cable does not produce radiofrequency radiation in the first place. It is true that wired technologies do not support device mobility, and can be more expensive to install than wireless technologies. But wired technologies are much safer, more cyber secure, more reliable, and faster than wireless technologies. What do YOU prefer as your link to communications services: a thin, benign optical fiber cable running from the street to your home or business, and easily placed underground, OR a cell tower looming in front of your home or business?
1 I am a retired U.S. Government career scientist (Ph.D., Applied Physics, Harvard University, 1975). During my Government career, I worked for the Executive Office of the President of the United States, the National Science Foundation, and the National Institute of Standards and Technology. For those organizations, respectively, I addressed Federal research and development program evaluation, energy policy research, and measurement development in support of the electronics and electrical-equipment industries and the biomedical research community. I currently interact with other scientists and with physicians around the world on the impact of electromagnetic fields, including radiofrequency radiation, on human health. Contact: Ronald M. Powell, Ph.D., 20316 Highland Hall Drive, Montgomery Village, MD 20886-4007. Email: ronpowell@verizon.net.
2 The National Toxicology Program tested rats, not humans, because humans cannot ethically be subjected to such risks. Also, test on rats have proven useful in predicting human responses.
3 Ronald M. Powell, Ph.D., The Health Argument against Cell Phones and Cell Towers (https://www.scribd.com/document/320935636).
4 What are 5G and the Internet of Things (http://whatis5g.info/).
5 Ronald M. Powell, Ph.D., Why We Should Oppose 5G on Health Grounds (https://www.scribd.com/document/339826676/).