Smart Grids are the new monitoring systems that were developed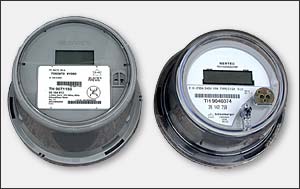 to help reduce the use of electricity durring peak hours.  Some Smart Grid systems using Smart Meters have been designed to report data back to a mainframe that reviews the data.  However in the process of communicating with the network, many of these systems were designed to use WIFI or WIMAX networks.
Wireless monitoring of home utilities for a brief time each day was of concern,  but when it was discovered that some Smart Meter systems would be doing an exchange of information ever few minutes it became a big concern to those already effected by electromagnetic radiation.
Considering that many people are in wireless environments and the locations during the day,   they can recover each night away from wireless.  However if all homes have WIFI Smart Meters, constant wireless communications,  it has become a big concern now that people have confirmed the effects.
Smart Meter  for

Hydro, Gas and Water



Symptoms people have experienced :
difficulty sleeping –  fatigue –  headaches –  heart palpitations – difficulty concentrating –
short-term memory loss  – tinnitus –  dizziness –  irritability –  nausea
…………………………………………………………………………………………………………
THE DARK SIDE OF SMART METERS
NOVEMBER 2010     California Produced by EON
http://www.youtube.com/watch?v=FLeCTaSG2-U
………………………………………………………………………………………………………..
The TRUTH about Smart Meters
SEPTEMBER 14 – 2010     California Producer: Jazz-elle Lasiuk
http://www.communitytv.org/programs/online/truth-about-smart-meters
…………………………………………………………………………………………………………
Smart Meters – NOT IN OUR HOMES and BACKYARDS!
by "Public Exposure" Film Co-Producer Mary Beth Brangan
She encourages listeners and viewers to join the growing nation-wide citizen / ratepayer resistance to this dangerous greenwashed corporate assault on democratic choice, public health, safety, privacy, property rights and national energy security. The industry is paying serious note to the growing pushback.
"MESH wifi means an increase in radiation, every 2 to 47 seconds"
…………………………………………………………………………………………………………
http://electricsense.com/tag/cancer/
…………………………………………………………………………………………………………
AMI –

Advanced Metering Infrastructure
NEC –

Networked Energy Services
AMR –

Automatic Meter Reading
AMM –

Autom

atic Meter Manageme

nt
Smart Grid – 

electricity network utilizing digital technology
Smart Meter – 

Electricity, Water, Gas
M-Bus (Meter-Bus)
–
European standard
for the remote meter reading
NILM – 

Nonintrusive Load Monitoring