With a phenomenal increase in the number of cellphone users in Bihar over the years, varieties of mobile phones have flooded the city markets.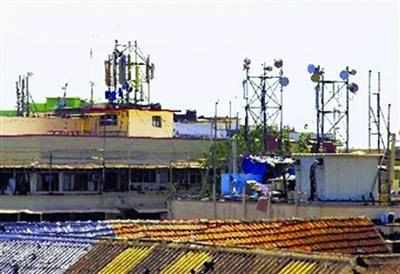 Birds are the worst victims of radiation, according to environmentalists. The population of house sparrows has dwindled considerably in recent years due to the rising number of cellphone
towers
 in different parts of the city.
Patna Science College environmental science department teacher Shardendu says, "Mobile phones and towers emit a very low frequency of 900 or 1,800MHz, called microwaves. These waves can damage bird eggs and embryos as they cause thin skulls of chicks and thin eggshells" Besides, birds are known to be sensitive to magnetic radiation. Microwaves can interfere with their sensors and misguide them while navigating and preying, Shardendu adds.
Environmentalist Mehta Nagendra Singh says mobile phone towers crowding the city skyline are making the air toxic. There are indicative studies to prove that these radiations are harmful for people living in a 300-metre radius of a cellphone tower. Pregnant women and children are at a higher risk than the normal population. The younger the child, the deeper is the penetration of electromagnetic radiation due to the fact that children's skulls are thinner.
Radiation from such towers poses grave health risks including memory loss, lack of concentration and digestive disturbances, he says.
It is very unfortunate to see huge cellphone towers thronging the rooftops in and around residential apartments, hospitals, schools and educational institutions and this has become more or less a common sight in cities across the state and elsewhere. The radiation has already led to the disappearance of several species of butterflies, bees, insects and sparrows, Singh claims.
Head of Patna Science College physics department Anil Verma says the popularity of cellphones and wireless communication devices has resulted in the proliferation of cellphone towers across the city. "While all of us have had our share of fun with mobile technology, it is now time to introspect and study the problems that one could face because of cellphone towers being installed in residential areas," he adds.
Even though the state government last year had ordered removal of 784 communication towers of different mobile companies located within 100 metre radius of residential, hospital and school areas in the state capital, not a single one has been removed till date, says Mahesh Chandra, a resident of Rajendra Nagar. As the telecommunication companies or service providers pay handsome amount as rent for installation of these towers, letting out building for cellphone towers is a good source of income for property owners and institutions, adds Chandra.