Official investigations can't find low-frequency hum's source
Brent Richter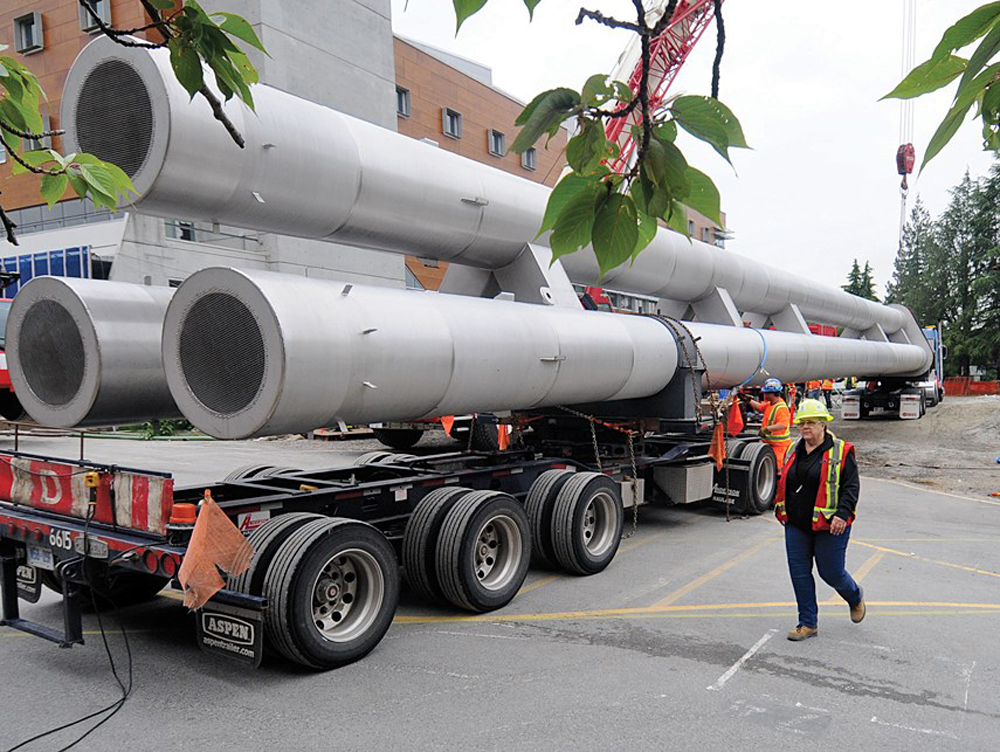 Crews deliver the new steam tower for the new Lions Gate Hospital power plant in June 2019. Complaints about noise coming from the area of the hospital have been cropping up in recent months. Mike Wakefield, North Shore News files
People can hear it. People can feel it. What's the buzz in Central Lonsdale?
A strange, low-frequency hum is being reported all around the neighbourhood, prompting complaints to the City of North Vancouver and an investigation by Vancouver Coastal Health.
"It's like this really loud humming," said Linda Cameron, who lives at 16th Street and St. Georges Avenue. "It's totally permeating my apartment. I had to keep all my windows shut. I put up two-inch Styrofoam sheets against my windows. Like nothing would keep that noise out."
Cath Ennis, who lives at 14th and St. Andrews described it as "more of a vibration than noise," and it only comes up intermittently. She tried to record it with her phone but the mic didn't pick it up.
"It seems to be on a slow pulse," she said.
Craig Galbraith, who lives at 18th and Lonsdale, has been asked by some of his building's strata members to look into it after losing many nights of sleep. One recorded a video of the hum causing ripples in a glass of water.
There are plenty of theories as to where it's coming from – train engines or waterfront terminals, construction equipment, Lonsdale Energy Corp. infrastructure. But most complainants suspect the noise is emanating from Lions Gate Hospital.
Galbraith said the city staffer he spoke with told him it is likely coming from the HVAC system at the hospital, or somewhere nearby.
Cameron said it seems to be loudest next to Lions Gate Hospital's expansion project construction site – but the noise persists even when work is done for the day.
Several people reported that the noise has been worse over the last two months.
Noise pollution is more than an annoyance, Cameron noted. It is a well-documented source of stress and it is a threat to public health, which is why environmental noise complaint investigations are handled trained Vancouver Coastal Health technicians with sophisticated instruments.
The irony of a public health facility possibly causing a public health disturbance is not lost on Cameron,.
"You don't want to hear something that keeps you up all night," she said.
The city's bylaw department received eight official complaints about the hospital's rooftop mechanical systems during the summer, said bylaw manager Paul Duffy.
At the city's request, VCH environmental health officers did come to take noise measurements from around the hospital but the results were inconclusive, and, in any case, the decibel reading was not high enough to be in violation of the city's noise bylaw, Duffy said.
Ambient noise in the area is already quite high due to the bustling nature of the neighbourhood, Duffy said, and tracking a noise to its source can be extremely difficult, especially when it's a low frequency.
Recent posts on the online forum Reddit showed people having issues with the vibrations from Lower Lonsdale to Lynn Valley.
"That stuff can travel miles and it's hard to pinpoint because it just bounces off whatever is in front of it and changes direction,"  Duffy said. "I wish I could pinpoint it and make it go away but we haven't been able to fully source it."
The fact the hum doesn't even constitute a bylaw infraction is part of the problem, Cameron said. Already, living in the City of North Vancouver can be unforgivingly loud, but with housing costs being what they are, it's not like one can easily pick up and move somewhere quieter.
Last November, city council passed a suite of bylaw changes aiming to crack down on urban noise, including higher fines and reduced allowable construction hours on Saturdays.
Vancouver Coastal Health declined the North Shore News' request for an interview about the noise investigation. Instead, the health authority sent a statement saying they are aware of the complaints and take them seriously.
"VCH is committed to the health, safety and security of everyone in our care, and the community we serve," it read. "VCH is working with the City of North Vancouver to mitigate any noise impacts determined to be related to the operation of the hospital."
Duffy said he's been made aware that VCH plans to replace and upgrade the rooftop mechanical infrastructure at the hospital "very soon."
https://www.nsnews.com/local-news/mystery-hum-noise-annoys-residents-in-north-vancouvers-central-lonsdale-video-4982373